Offer
Shirts Peter's is synonymous with the highest quality and the natural choice for men who appreciate elegance and the highest quality. Years of experience have made the brand an expert in your field.
The character of the traditional work shirt tailoring, and fabric from which it is made, which is why we attach great importance to its quality. For its production we use high-quality cotton fabrics, cotton blends and polyester coated finish to give the desired sleek appearance, as well as fabrics with timeless designs always adapted to the latest trends in men's fashion.
In our offer you can find such proposals for the men responsible for a very formal dress code. In addition to the classic designs we have on offer suggestions for men are open to new trends. Fashionable styles, interesting materials and colors. We can have fun with fashion. We know that life does not end at work, so dress for every occasion men, such as non-business meetings and evening trips to the club.
We are constantly trying to be Peter's products became more familiar and recognizable in Poland. Trust you, give unquestionable guarantee of good taste and modern image.
All our shirts are available in many colors and patterns:
Classic Shirts
Business Shirts
Slim FIT Shirts
Custom Shirts (on Request)
The variety of colors, patterns and unique multiplicity of finishing the regular shirts in silhouette, give us the right choice in creating the perfect styling, adapted to all sorts of occasions.
These shirts are dedicated to customers who value style and classic design, which allows to feel comfortable, fashionable and appropriate in every situation.
Read more »
Collection of shirts for uniform color business strictly for the purpose.
Highest somehow used in the production of cotton ensures an adequate comfort, durability and usability of the product. T-shirts from this collection perfectly fit into the classic, timeless fashion business.
Read more »
Slim and athletic figure requires us proper attention in order to emphasize and highlight the proportions of your body.
According to this idea was created Slim Fit shirts collection (sidecut). Appropriately tailored shirt highlighting the advantages of silhouette, available in various collar and cuff, provides us the ability to adapt to their needs shirts.
Read more »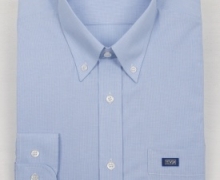 Peter's many years fulfills orders for men's shirts for companies and uniformed services.
We branded men's shirts with embroidered company logo or any other motive, put on any item such as a shirt pocket, collar, front shirt with a logo, etc. we offer a fun way to identify and increase the visibility of your brand.
We offer you the possibility to make shirts business in accordance with approved designs uniformed services.
Read more »